Better Vision for a Better Life...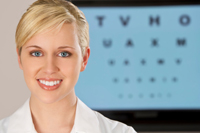 Welcome, and thank you for visiting our website! If you're a current patient, thank you for allowing us the opportunity to fulfill your eye care needs. If you're a new visitor, we look forward to meeting you and exploring the various options available for correcting or enhancing your vision.
When you visit our office, your eye health is our top priority. Our entire team is dedicated to providing you with the personalized care you deserve using only the latest, most innovative techniques in eye care. We offer a variety of general ophthalmology treatments to help restore and maintain your optimal vision health.